If you tell someone that you're a blogger, they usually think it's just a hobby or something you're doing while "looking for a real job".
But the truth is, it can actually be a very lucrative career and the good news is that anyone can make money from blogging.
How you ask? I have put together this step-by-step guide to save you time having to search the whole of the internet for information.
We will look everything you need to get started and make money from blogging.
How To Start a Blog
Before you can actually make money from blogging, you need to start a blog. Here's how to start a blog:
First of all you need to come up with a name and an idea for a blog. What is your blog going to be about?
Then, you will need somewhere to host your blog. I recommend you use SiteGround – you can get their StartUp plan for just £5.99 per month. It's the easiest and cost-efficient way to get your blog up and running.
SiteGround will also offer you free privacy protection to make your blog secure for your visitors.
Once you've done that, your blog is technically on the internet. How easy was that?
Now, get the rest of the website up.
Log into your account and head to the "Website" section. From there, hit the "New Website" button and you will have 3 options.
You can buy a "New Domain" if you don't already have one.
You can add an "Existing Domain" if you have already bought one.
You can use a "Temporary Domain" if you want to set up your blog properly before sharing it with others.
From there, you will need to Install WordPress (the best website builder out there).
Once you've set up your WordPress installation, you will need to choose a theme. There are many great FREE wordpress themes you can choose from, especially for blogging.
From there you can actually start writing your first blog post. If you want to make money from blogging you will need to find ways to monetise your content – but we'll get to that later.
For now, let's go through the whole process of how to start a blog in more detail.
Step 1: Think of an idea for your blog
The first step might actually be the most important one.
If you want tomake money from blogging, you need to decide what you're going to be blogging about.
It's proper industry term is finding your "niche". This just means the specific industry you intend to write about. The good news is that the internet is massive, so you can literally find an audience for any topic.
To put it into perspective, Google handles over 2 trillion searches per year. Exactly. That's over 2,000,000,000,000.
With that being, it's true that not all niches are equal. Some topics can be vastly more popular than others, therefore get much more traffic. So when deciding your niches, try to look for one that you're interested/passionate about AND has a reasonable big audience.
How To Find a Blog Niche
Finding a suitable blog niche essentially comes down to 2 things. What are you interested in and what are other people interested in?
1. What are you interested in?
Think about all the things you're interested in. What are you passionate about? Writing about things you're passionate about/interested in will make it infinitely easier to do.
To help you choose, you can break things down into these categories:
Your talents. Do you have any talents? It could be a sport you participate in, games you play or even a musical instrument.
Your knowledge/skill set. What areas are you knowledgeable or skilled in? It can be academic subjects you've studied or skills like home DIY that you've learned over the years. Anything really.
Your career. This can actually be a great thing to write about to make money from blogging. You can share your blog with an audience of your colleagues/network.
Your interests. Maybe there is something you're not that knowledgeable/skilled in, but you're very interested and want to learn more. Blogging can be a great way to expand on that and share your journey with people who are also in a similar situation.
Easy Tip: Write down up to 15 topics you're interested/knowledgeable/skilled in. It will make it easier to decide what you can write about.
2. What are other people interested in?
Finding topics that other people are interested in is going to be a bit harder than just deciding what you're interested in.
But don't worry, it's still doable. If you want to make money from blogging, it's important that you do this properly. Otherwise you will find yourself writing content that other people might not care about, so you won't get the necessary numbers to start making money.
Think about it this way. If you write a blog about how much you love going to the gym, it most likely won't attract a big audience. But, if you started writing about exercise and workout tips, fitness and nutrition guides etc., it would interest a much bigger audience of readers.
So, what topics are people interested in? Some of the most popular blog niches include:
Personal Finance
Food
Health & Fitness
Travel
Fashion
Lifestyle
Marketing
Pets
Parenting/Children
Investing
If you've taken my advice and wrote down the things you'd like to write about, check them against this list. Do any of them fall into any of these categories?
If yes, great! If no, that's okay. There are still millions of other topics you can choose to write about.
The topics I've listed above are still quite broad. If your blog idea falls into one of these categories, you might want to niche down even more.
For example, if you want to start a blog about food you could niche down to some specific cuisine. Are you really good at making Mexican food? Focus your blog around that!
Step 2: Choosing your domain name
Your domain name refers to your website address. When it comes to choosing your domain name, there are good news and there are bad news.
Bad news. A lot of the "good" domain names are likely to already be taken. Think about it, the Internet has been around for a long time. Someone will have likely already bought the "good" domain names.
Good news. You can still find the perfect domain name. It might be that you get lucky and your desired domain name is still available or you actually think of a completely unique name.
When choosing a domain name, you should keep a few things in mind. Here's a list of some considerations to take into account:
It shouldn't be too long. If your domain name is really long, it can put visitors off from searching for your blog directly. It will also increase the chances of misspellings.
Choose a .com or your relevant location top-level domain (TLD). Using a .com is probably the easiest one for people to remember. But if your target audience is in the UK, you should go for a .co.uk domain.
Use simple spelling. Quirky or unconventional names can make your blog appear more unique, however they can also make it harder for people to remember the name or misspell it.
Use your own name. Chances are, your name will be available as a domain. So it would make sense, especially if you want to make your blog personal.
When you've thought of your domain name, just head over to SiteGround and see if it's available to buy. 
Step 3: Sign up for SiteGround
In order to get your blog up and running on the internet you will need somewhere to host it. That's when your website becomes "live".
I recommend your choose SiteGround. It's what we use here at Ambition Digital and we love it. The service is reliable, comes with a free SSL certificate and all of the energy used by the servers is matched by 100% renewable energy!
You can get the StartUp plan from just £5.99, making it very affordable. Bargain! 
Step 4: Set up WordPress
The easiest way to get started with a website is to use a Content Management System (CMS). We recommend you use WordPress – the world's most popular CMS.
In fact, WordPress powers almost 40% of all of the world's websites. The best part? It's free to use.
Here's how you can set up WordPress in your SiteGround account in just a few easy steps:
Log into your SiteGround account.
Click on the "Websites" tab.
Click the "New Website" button.
Buy/Add a domain name.
Select "Start New Website"
Select "WordPress" and enter login details.
Click "Continue"
Step 5: Select your WordPress theme
In order to make money from blogging, you need a good blog website theme.
WordPress makes it easy to change how your website looks. And the great thing is, you don't even need to know any coding!
You can just use a website "theme" to change the look of your site without affecting your content.
The good news is that there are plenty of free themes you can use. If you're looking for premium themes, check out ThemeForest – the biggest WordPress theme marketplace in the world!
Once you've got your theme, just install and activate it.
Step 6: Pick your WordPress plugins
What makes WordPress so great is the fact that you can customise it and add a lot of different functionality to your website.
WordPress plugins can make this process very easy. Plugins are a type of software add-on that can add new features to your website. And the best part? You don't even need to know any coding.
Keep in mind that you shouldn't overload your WordPress site with plugins. Too many can cause your site to become slow, pose a security threat and even break your site completely.
Plugins could conflict with one another so you have to be careful. If the plugin is not regularly updated and maintained, it can make your site vulnerable to hackers.
If your site has too many plugins installed at once, you will find it hard to know, which is causing the issue. It's best to keep the amount of installed plugins to around 5-10.
Here are some of the plugins we use at Ambition Digital:
Yoast SEO – Easy to use SEO plugin that can help with tasks like creating sitemaps and provides recommendations for optimising your content.
Wordfence Security – A security plugin that can notify you of any unusual activity on your website. It also includes malware scans, antivirus and firewall protection.
Smartsupp Live Chat – A live chat plugin that allows your site visitors to get in touch with you quickly and ask any questions they may have.  
Step 7: Set up your Google Analytics
Google analytics is a free tool provided by Google. It's useful for things like:
Monitoring your website traffic analytics (page visits, pages per session, bounce rate and more.)
Seeing where your visitors are coming from (what country, the device they are using etc.)
Tracking which pages are doing the best (what posts/pages are receiving the most traffic.)
It's not too difficult to get set up. Just head over to Google Analytics and set up your account. Then, install the tracking code onto your website.
Since Google Analytics collects all of the website website for you, it will be useful to analyse it after some time. This will give you a better idea of the "bigger picture" for how your site is being used by visitors.
Seeing your numbers going up can also be a tremendous confidence boost. If more and more people keep coming to your site – keep working! Add more content that people will love.
If your analytics tells you your site is not performing that well, figure out why. Are there certain types of pages/posts that are getting most of the traffic? Build on that.
Step 8: Create a list of email newsletter subscribers
Have you ever heard of the expression "the money is in the list"? Well, if you haven't – now you have.
It refers to your email subscriber list and how it can be one of the most powerful marketing tools in your arsenal. When people subscribe to your email newsletter, you can directly reach out to them with news and offers in your niche.
If you want to make money from blogging, it's not just all about writing blog posts. Email newsletter can open a new avenue for monetizing your site.
For example, let's say you have just written a new blog post. Why wait for traffic to start coming in from search engines? Share it on your social media right away. Then, share it with your email subscriber list.
Even if you don't know what to send to your subscribers right now, start building a list. It's simple enough to do. We recommend you use MailChimp – a free email marketing tool. And guess what? They also have a plugin for WordPress, which makes collecting emails really easy.
The main thing is to build a list. Don't worry about having to constantly bombard your subscribers with emails. Your email list can prove to be a real gold mine later down the line.
It's said that once you have 10,000 email subscribers you can really start to make money just from your list alone.
Step 9: Create a blogging schedule
Most people who make money from blogging are the ones that are in it for the long term.
You have to be consistent with your posting to build a real audience and that could take years. I know it's not what people want to hear, but that's the reality of it.
How often should you blog then? Let's put it into perspective:
At the very least, you want to publish a blog post at least once per week. But if that's all you have time for, make sure it's a good one. Make your blog post thorough and at least 2000 words long.
Step it up a notch and do that 2-3 times per week to start to see better results.
Authority sites usually create around 5-7 blog posts per week, done by multiple authors. This adds credibility to your site.
The real big boys will go as far as creating 60-120 blog posts each month. This is for large websites that have made content marketing their primary strategy for driving traffic and customer acquisition.
Check out these statistics from a survey of more than 1200 bloggers done by Orbit Media. Notice anything here? Bloggers who publish content more frequently get better results.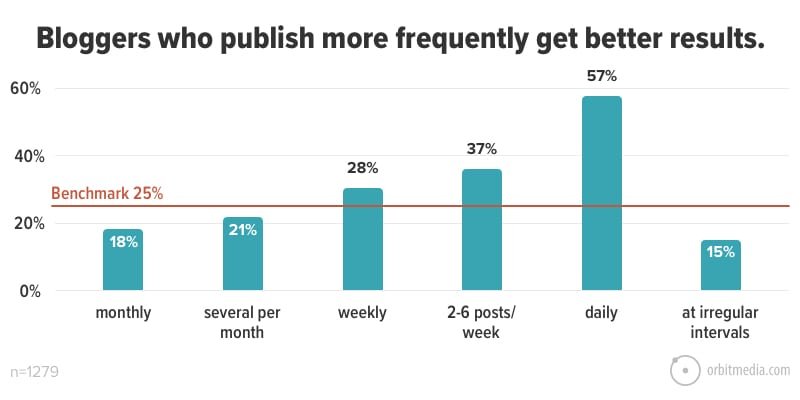 Of course, writing isn't easy. If you're just starting out try to stick to publishing 1 blog post per week until you feel more confident that you can do more.
Keep in mind, it's better to produce quality content than just trying to push as many posts as you possibly can. The key to building consistent website traffic is to create valuable content that your visitors will actually find useful. 
10. Establish a real audience
There is a famous theory called the Thousand True Fans.
It's built on the belief that once you have 1000 "true fans" you can fully support yourself financially. In this context, a true fan is defined as someone who will click and read on every blog post you publish.
If you want to make money from blogging, you need to build an audience – but it can take a while. I'm talking 1-2 years or even longer.
Here are some tips you can use to build 1000 True Fans for your blog:
Stay consistent. Post at least once per week – every week.
When you're able to, step up your posting to 2-3 times per week.
Choose quality over quantity. Make people appreciate the amount of work you have put into writing your blog posts.
Write about things that other people haven't written about. Look at what your competition is doing. It should give you a good idea on what they are not doing.
Be yourself. People want authenticity and if your blog posts are just the same as everyone else's, why should they choose to read your work?
Get social. Share your posts with your readers on social media. Get active in online communities such as forums. There are bound to be plenty in your chosen niche.
Add value. You need to ask yourself "how can I create value for my readers?" Figure out what your readers want from you and then give it to them.
How To Monetise Your Blog
Writing can be fun and fulfilling, but you obviously want to see something out of it. If you want to make money from blogging, you need to monetise your blog.
The 2 best ways to monetise your blog are:
Selling infoproducts: online courses, e-books, teaching webinars etc.
Affiliate marketing: promoting other brands/products and receiving a commission for any sales.
Here is how they work.
How to sell infoproducts
Selling infoproducts, such as e-books, webminars and online coureses are great ways to make money from blogging.
There is a simple strategy you need to follow to sell your infoproducts through your website/blog. Here it goes:
Get visitor traffic to your site.
Make people subscribe to your email list. You can offer them a freebie or a discount to incentivise them to sign up.
When you get an email subscriber, run them through a sales funnel.
Convert your visitors into customers.
It might sound too easy, but seriously. That's all you have to do to close the sale.
Make sure your sales copy is immaculate. This will help a lot (obviously).
How to do affiliate marketing
Affiliate marketing is a great way to earn some extra income and make money from blogging. All you have to do is mention your affiliate product/service and the provider will take care of the rest.
To really make affiliate marketing work, you need a good sized audience. The bigger your audience, the more you will earn.
Simply embed an affiliate link into your content and hopefully your reader will click on it and purchase the product/service.
To find affiliate partners to work with, we recommend you sign up on Awin.
Other ways to monetise your blog
There are a few others ways you can make money from blogging, however these are marginal at best.
One of the easiest things you can do is implement AdSense onto your website. AdSense is Google's ad network that allows Google to automatically display ads on your site for visitors.
Every time you get a click on the ad, Google will pay you some money. It's worth doing, but don't expect to make millions from it.
Do you have anymore questions about monetising your site or how to make money from blogging? Let us know in the comments below.