When it comes to learning how to grow your business online, there is no shortage of courses for digital marketing to help you do that.
Digital marketing is a constantly changing field and it's hard to keep up with the latest trends, techniques and strategies. That's why courses are such a valuable resource for people who want to improve their digital marketing skills.
In this article, we'll look at 8 platforms to find free courses for digital marketing to help beginners take their knowledge to the next level! These courses will help you get an understanding of everything from SEO to social media engagement and more.
1. Google Digital Garage
Google Digital Garage has a range of free online digital marketing courses, which are designed to help grow your business or advance your career.
The Digital Garage covers topics like fundamentals of digital marketing, search engine optimisation (SEO), content development and social media strategy among others – all with a strong emphasis on how these pieces work together to produce successful campaigns.
2. SEMRush Academy
SEMRush Academy offers free courses for digital marketing, which are perfect for learners of all levels.
The courses offer a world-class education and have been put together with the help of experts in their respective fields. They have shared their insights and techniques that you can use to supercharge your own digital marketing strategy.

3. HubSpot Academy
HubSpot Academy is one of the best place to improve and your inbound and outbound marketing skills. You can find courses that will teach you how to get started with digital marketing followed by more advanced strategies and techniques.
HubSpot Academy's courses are fully interactive, meaning that they include videos, quizzes, slide decks, assessments and more! This makes them easy to follow and learn more effectively.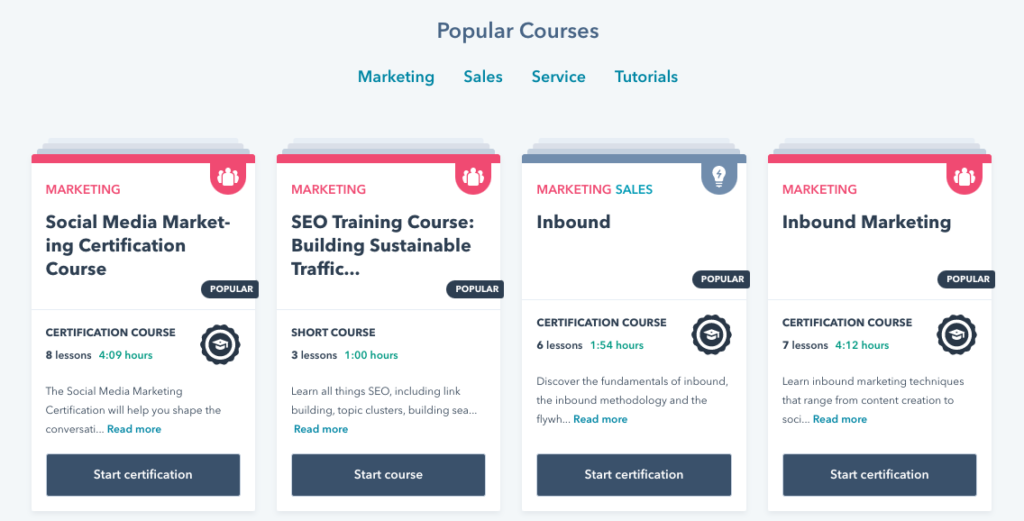 You can see all of the available courses for digital marketing on HubSpot Academy here.
4. OptinMonster University
OptinMonster University is excellent for anyone who wants to learn more about how to increase the conversion rate of their website.
Their courses offer step-by-step guides on getting started with email marketing, increasing website traffic, and turning your visitors into email subscribers and loyal customers.
Some of their best courses for digital marketing include:
How to Create a Lead Magnet
How to Get Started With Email Marketing
How to Reduce Cart Abandonment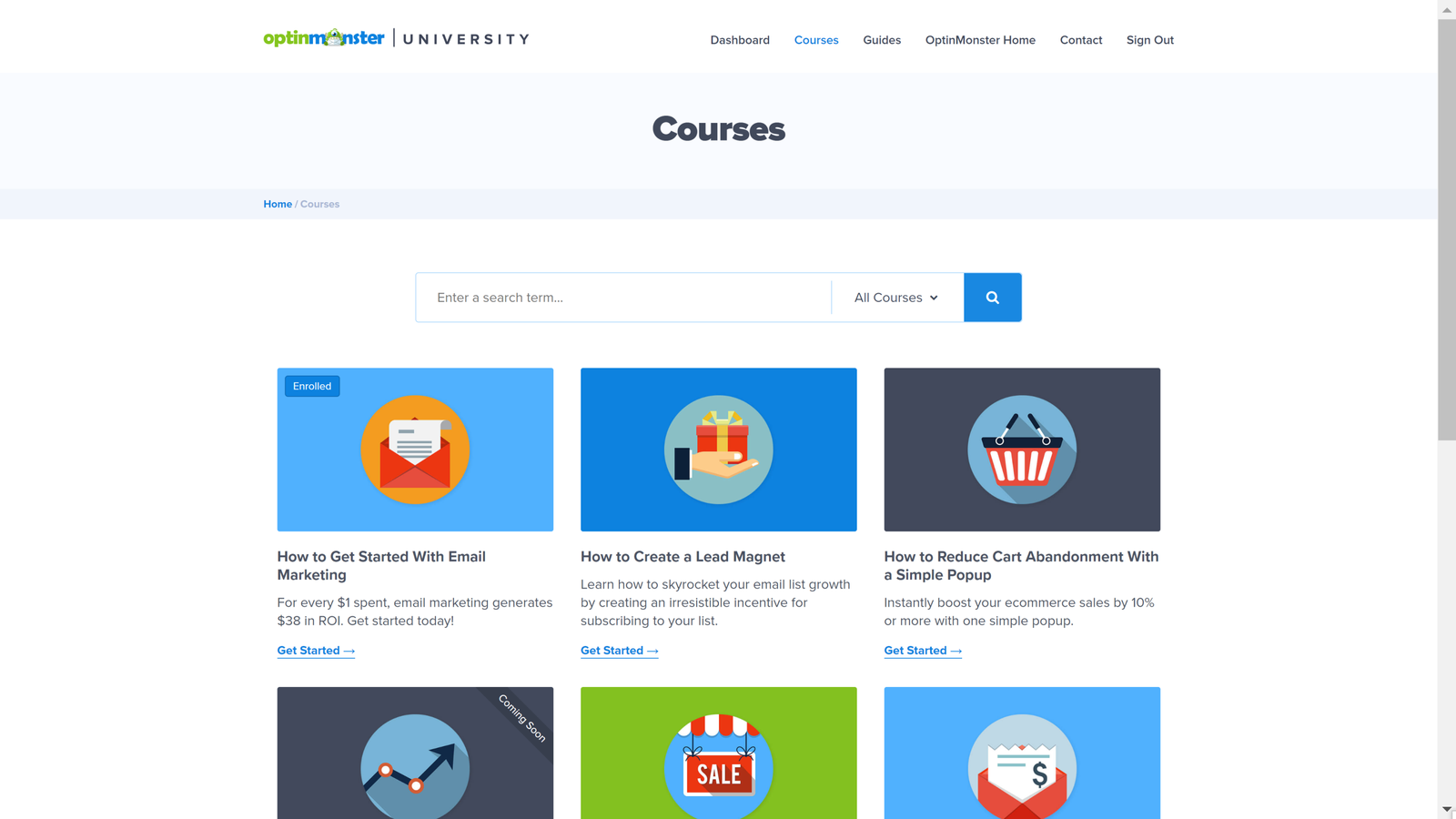 5. LinkedIn Learning
Many of the courses on LinkedIn Learning offers are focused around helping you learn how LinkedIn can be used as a tool in your digital marketing efforts.
Some courses can also help you build other important skills such as remotely managing a team, finding a job, and coping with new stressors.
There are currently 8 learning paths which you can explore here.
6. Alison
Alison is one of the world's largest free learning platforms for education and skills training. They offer courses for digital marketing on everything from coding to design and much more.
If you're looking to pick up some new skills quickly, you'll find short certificate courses with an average completion time of just 2-3 hours. For a more in-depth learning experience you will find diploma courses with 8-10 hour completion time, as well as advanced learning paths that can take up to 20 hours to complete.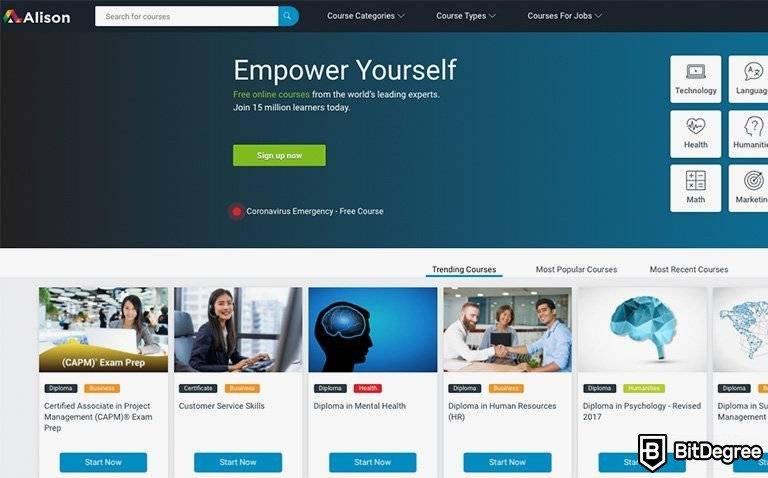 You can browse through the marketing courses here.
7. edX
edX is an online learning platform which aims to offer access to high-quality education for everyone. It allows you to learn and take courses from more than 160 member universities.
You can even find courses for digital marketing from top universities worldwide such as MIT, Harvard and Stanford.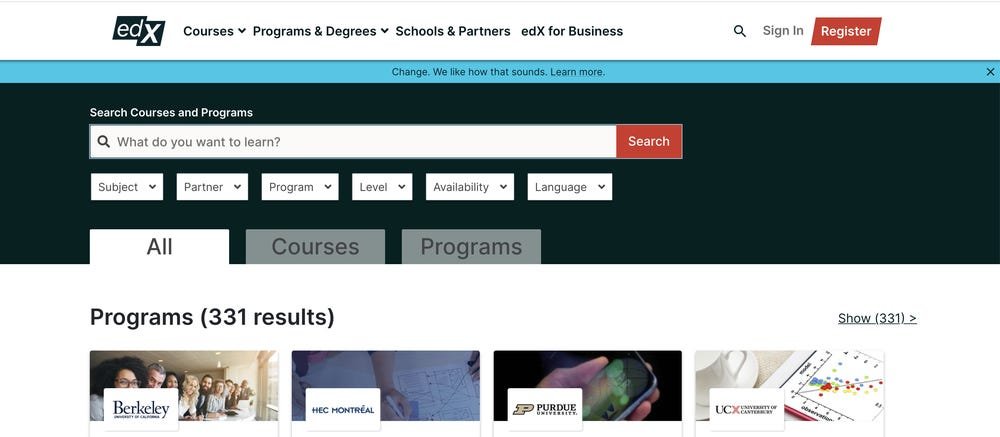 Find their full list of programs and courses here.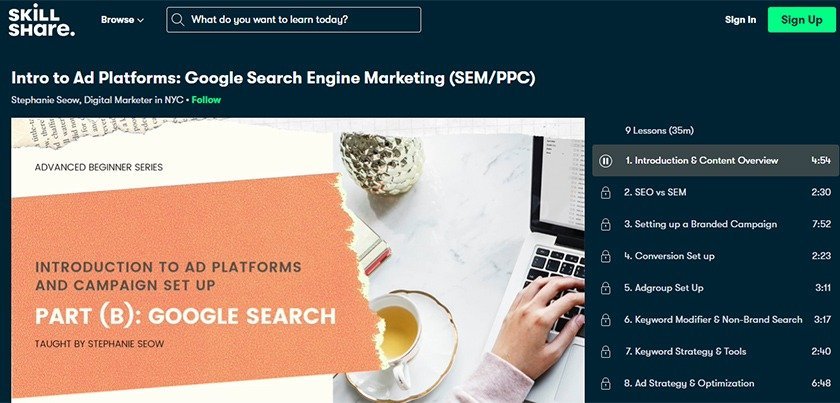 You can explore their full list of classes here.
In conclusion
You can use this list of platforms offering free courses for digital marketing to learn new skills and take continue to grow your business online.
From learning how to code, the fundamentals of SEO or how to create an effective email campaign – you will be able to find a course on everything there.
If you found any courses or platforms that we missed feel free to comment below. Thanks for reading!
Need help with your digital marketing? Ambition Digital is a full-service digital marketing agency based in Edinburgh, UK. Contact our team of experts for a free consultation today.