Whether you're a small business owner or the head of a large corporation, it is important to understand why and how to secure your website properly.
The importance of website security has grown tremendously over the last few years – especially with businesses turning their attention online. As a website owner, it is your responsibility to ensure the safety of your website, its users and to protect it from hackers.
Website security is an important factor in SEO rankings as well. A hacked website can mean lost revenue for you, which is why knowing how to secure your site and what constitutes as best practices are essential for any online business.
This article will explain what website security actually is and why it matters, as well as how to implement basic site protection for any size business.
What is Website Security?
Website security is the practice of protecting your website and data from outside hackers. This includes defending against DDOS attacks, malware, vulnerability exploits, defacement or even getting your site blacklisted in search engines.
The good news is that all of these things can be prevented and the threat minimised by implementing a strong website security plan.
Most Common Website Security Vulnerabilities and Threats
There are many different ways your website can come under attack.  We will cover the most common ones below.
DDOS Attack
Denial-of-service attack (DDOS) attempts to make your website or online service unavailable by overwhelming it with traffic from multiple sources at once.
Malware & Viruses
Malicious software can get installed on your computer or website code and be used as part of larger attacks. These can include DDOS, stealing customer data, infecting your visitors devices and even ransomware.
Vulnerability Exploit
A hacker could take advantage of weaknesses in the design of IT systems, such as WordPress plugins. Access to your site or the information stored on it could be gained through various vulnerability exploits.
Phishing
Phishers create fake email addresses and websites that look like they are a trustworthy brand. Your email template or website could be copied in order to steal information from website visitors, by tricking them into providing their information.
Brute Force Login Attack
This is when someone tries different passwords or username combinations until they find the right one which could allow them full access to your website. Software could be used for this task, to attempt all types of different combinations in a short amount of time.
Social Engineering Attack
These are often done through email or phone and are similar to phishing attacks. The hacker can impersonate your brand and ask the victim for account information, which they can then sell on the black market.
Search Engine Blacklisting
This is when a website's links are removed from search engine results and the site can no longer generate traffic. It can happen when your website has security issues and the effect from it could completely devastate your business.
How to Secure Your Website
Now that we've covered some of the most common website security vulnerabilities and threats it's time to look at how to prevent them on your website.
There are many ways you can secure your website. The first steps you need to take are making sure that all software on your site is up-to-date and installing a firewall for protection. A firewall can protect you from malicious IP addresses and provide instant malware detection.
Here are some additional important steps you need to take to get your website security up to scratch in 2021.
Get HTTPS
One of the most important website security measures you can take is to get a secure connection. Getting an SSL certificate is one of the basic website security measures that will protect the data collected by your website, such as passwords and card details.
Install Updates
Software updates are crucial for website security as they provide patches for newly discovered vulnerabilities in order to keep intruders out of your system. Hackers are always looking for vulnerabilities which they can exploit, particularly in WordPress plugins. That's why it's very important to keep them up-to-date as updates often provide new security and bug fixes.

Get Secure Web Hosting
When it comes to website security, getting a secure web host is also important. The hosting company should provide you with additional security measures, such as two-factor authentication and a free SSL certificate for your website. We use SiteGround, which also provides a free, fast and secure CDN solution via Cloudflare.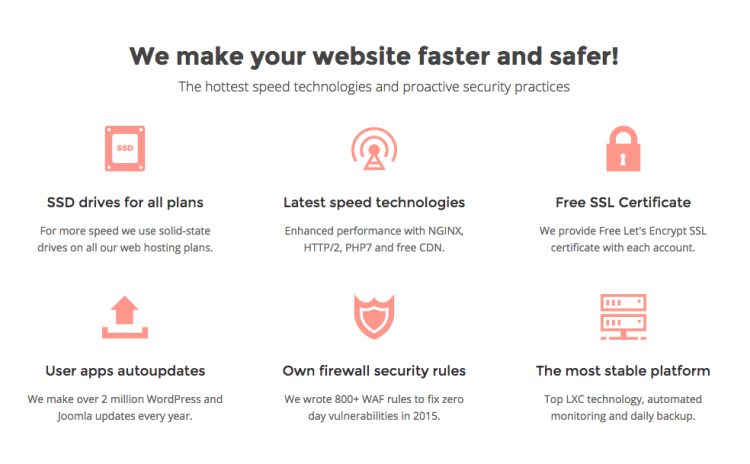 Use a Strong Password
You also need to secure your account with a strong password. Make sure it contains upper and lowercase letters, as well as numbers and symbols for maximum strength. And do not use the same password on different websites or accounts. If your password gets compromised in one place, it can give the hacker access to other accounts too!
Secure Your Computer
It's also very important to secure your computer. What's the point in taking all these steps to secure your website, if sensitive information could simply be accessed through your own computer? At the very least, you should have an antivirus software installed and make sure to keep it up-to-date.
Get a Website Firewall
The first line of defense against malicious hackers is a website firewall. It will protect your website from brute force attacks and detect any breaches in security automatically, without you having to do anything at all!
If you're using WordPress, we recommend a plugin called Wordfence – it includes a Web Application Firewall (WAF) that identifies and blocks malicious traffic. The plugin can also protect you from brute force attacks by limiting the number of login attempts.
Backup Your Website
It's better to be safe than sorry. You should always keep a backup of your website on hand just in case something goes wrong, whether it is a malware attack or you accidentally break something.
Hire Us for Website Security
If you're looking for a website security expert, we have the expertise to help you. We provide comprehensive website security solutions suitable for small, medium and large businesses.
This includes ongoing site protection, security audits, firewall installation, malware & hack scans, removal, cleanup and more! Our website security solutions are something your business can count on 24/7/365.
In Conclusion
The Internet is an amazing tool. You can build your business and connect with people all over the world, providing services and information in a matter of seconds. But it also comes with risks that you need to be aware of. Your website needs to be as secure as possible so malicious attacks don't break your site or worse yet, steal business data!
There are simple steps you can take to secure your website, including keeping your software up-to-date, using strong passwords and installing a firewall among others.
If you need any help with your website security, we're able to assist no matter the location or size of your business! Contact us today to get started on protecting your website from hackers, malware and data breaches.
Let our team at Ambition Digital take care of all those security concerns for you while keeping your site backed up and running smoothly 24/7/365!