One of the most difficult parts of starting a new website is link building. You need a good link building strategy so that you can get high quality backlinks and start to rank higher on search engines. Link building is a cruical part of SEO and is used to link your content together, as well as build up the number of sites linking back to you.
Backlinks are one of the most important ranking factors in SEO and are used as "votes of confidence" by search engines to determine if your site is trustworthy and relevant. The more backlinks you have, the better chance that Google will determine that your site is valuable to users and show it higher in search results.
But you can't just build a huge number of "spammy" links and hope for the best. Your backlink profile needs to be balanced and healthy — the more high quality links pointing to your site, the higher the chance it will rank on Google.
No matter what industry you're in, link building can help grow your organic traffic exponentially over time if done right. In this article we'll look at 7 link building strategies to help boost your search engine rankings and get more people noticing your business!
What Is Link Building?
Link building is the process of earning links back to your website and content. These can be from other websites or even social media profiles like YouTube channels and LinkedIn accounts.
The more high-quality links you have pointing at your website, the better chance Google will view your site as trustworthy and relevant. This will help you rank higher in search results and increase organic search traffic.
Is Link Building Worth It?
Yes, link building is absolutely worth it! The more high-quality backlinks you have, the better chance your site has of ranking higher in search engines and getting a huge boost to your organic traffic. Although at one point in time link building might have focused on "link quantity," these days Google really values high-quality links from relevant sources — so if your link profile looks like that of an average spam site, you are going to have a hard time ranking.
Search engines place more weight on links from "trusted" sources like .edu and .gov sites, news outlets, industry-relevant blogs and other sites with high domain authority. However, there is no denying that link quantity does still play a role in how search engines rank your site — so it's important to build a good variety of links that Google will see as valuable and relevant to your business.
What Is The Best Technique For Building Backlinks?
The best technique for building backlinks is by creating valuable, unique content that adds real value to your readers. Content is king, so if you're able to consistently deliver good content, people will link to you naturally.
But there are many other link building strategies and techniques that you can use for building high quality backlinks. Let's take a look at some of the best link building strategies for new websites.
1. Broken Link Building
One link building strategy that works great is broken link building. First, you need to identify content that has external links to other sites, but the content is no longer available. You then reach out and let them know about the broken link on their page and ask them if they would link to a similar resource on your website instead.
Nobody wants broken links in their content, so there is a good chance that they will be happy to replace it with your link. You just need to make sure that your content is as good or better than the link they were using before — otherwise, you may not even get a response.
You can use a tool like the Wayback Machine to see what the broken page used to be. Getting a 5–10% conversion rate with this link building strategy is a good result.
2. HARO Link Building
HARO stands for "Help A Reporter Out" and it's one of the best link building strategies out there. HARO is a free service that reporters use to find experts in different industries who are willing to answer questions they have about a topic, give feedback on an article or share information.
If you're an expert in your field and are willing to share your expertise, it's a great way to earn high quality backlinks from some of the biggest publications in your industry. You can land some seriously powerful backlinks, but it's also one of the hardest link building strategies out there.
3. Guest Posting
This is one of the most effective link building strategies for establishing authority and credibility, as well as driving targeted traffic to your site. It's also one of the most widely used link building techniques with 60% of blogs writing 1-5 guest posts per month.
Guest posting works by contributing content on other sites in your industry. To start, you will need to find websites or blogs that accept guest contributors and reach out to them.
You will then need to pitch your content idea, so you'll need to come up with something unique that you think will add real value to their readers. If you're invited to contribute, you'll usually be able to link back to your website using keyword-rich anchor text of your choice and gain a powerful backlink that is relevant to your own content.
4. Link Roundups
This is a great link building strategy, as there are link roundup posts being published every single week on all kinds of topics or niches. You can find these types of posts through Google bu using search queries like "keyword + link roundup."
Once you find link roundup articles, you can reach out to them and ask if they would be interested in featuring your article, which comes with a link back to your site. Here are some keyword ideas you can use to find link roundup posts by searching on Google:
"Keyword" + "link roundup"
"Keyword" + "weekly roundup"
"Keyword" + "weekly link"
"Keyword" + inurl:roundup
"Keyword" + intitle:roundup
"Keyword" + best posts of the week
"Keyword" + best blogs of the week
5. Citations
Citations from business directories are a great link building strategy that can be used to diversify your backlink profile. Citations for SEO are essentially a way for search engines to verify that the business information is accurate and correct. This can help your business appear more trustworthy in search engines like Google — especially when it comes to local SEO.
One of the most important things to keep in mind is your "NAP" (Name, Address, Phone number) consistency. You need to make sure that these details are the same across all of your citations — same spelling, same format and same details. Other than making it much easier for potential customers to find your business online, Google also uses information found on your website with NAP information found on business directories to ensure that your business is trustworthy.
6. Blogger Outreach
This remains one of the most popular link building strategies out there. It works by reaching out to influential bloggers or other websites in your industry and asking them if they would be interested in featuring a link back to your website on their blog.
Contextual backlinks are links that are embedded within existing content and can be highly relevant to your product or service. If you come across a piece of content that is relevant to your business and you have content that can add real value to it, reach out and see if they are open to linking back to you.
Although blogger outreach is a very popular link building technique, it's not an easy one. According to a study by Backlinko, only 8.5% of outreach emails receive a response. You'll need a good pitch and even better content for you to even stand a chance at getting a backlink with this technique.
7. Internal Linking
The final technique we'll mention is internal linking. It's a very underrated link building strategy which involves using existing content on your website to include links to other relevant pieces of content on your own site. In fact, 51% of SEO experts recommended that you include 2 to 3 internal links in a blog post, while 36% say 3 to 5 should be included.
Other than improving your site structure, internal linking has also been shown to be very effective at passing "link juice" and giving an algorithmic boost to the content that you're linking out to. It's a great way of diversifying your link profile and encouraging people who are reading one article on your website to read another, by pointing them towards other relevant content you have published in the past.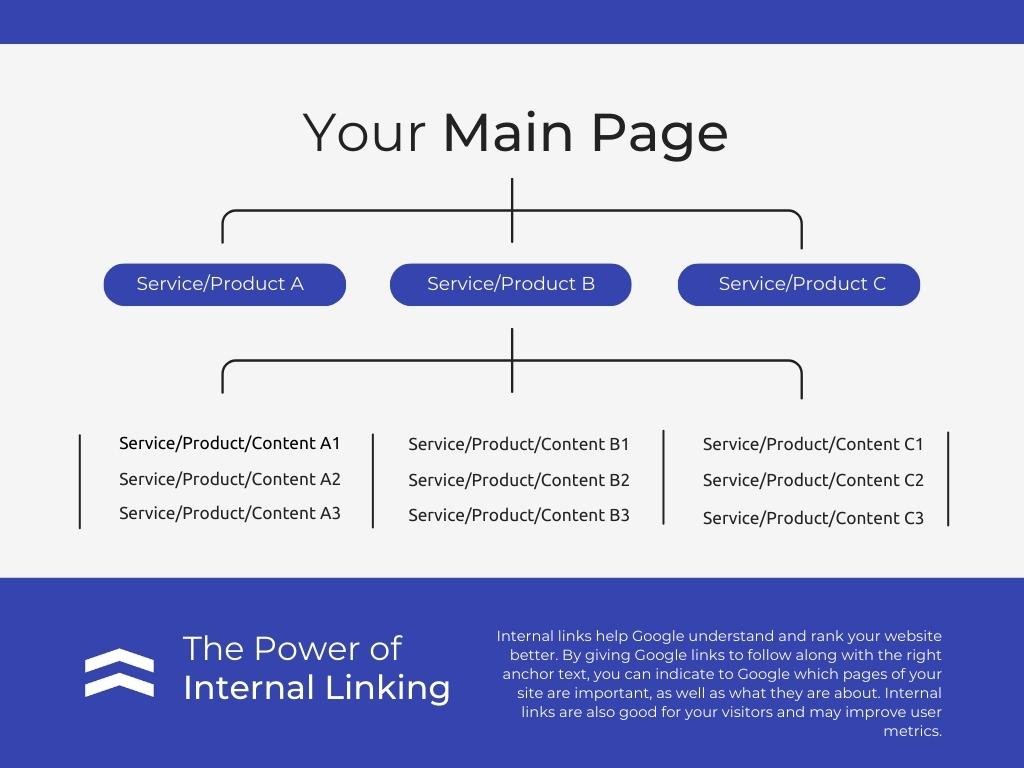 In Conclusion
If you want to succeed with SEO you need to build high quality backlinks — but it's not an easy task. You need a proper link building strategy in place to improve your chances of success.
There are many effective link building strategies that can work for your business, but it largely depends on your industry and the type of content that you're producing.
We hope that article has given you an insight into link building and how you can use it to improve your website's search ranking — let us know if any of these techniques have worked well for you!
If you need help with your SEO, feel free to contact us today. Ambition Digital is a 5-star rated SEO agency with a proven track record of getting our clients exceptional results.