Implementing a local SEO strategy will help you increase your website's visibility in organic search results in areas near you. When someone types in a keyword with a local query, you want your website or web page to be be ranked highly for this area.
While SEO is a general strategy to improve your website's visibility online, local SEO is specifically intended to help your site show up for local customers searching for products or services near them. It's a great way to generate leads and sales from local customers in your area. For example, if someone is searching for "digital marketing agency in Edinburgh" we want to be the first result that people see.
But local SEO can be tricky because the difficulty of ranking varies from one location to another, as well as your competition and industry. To be successful, you will need local expertise, as well as an understanding of how search engine optimisation works.
What is Local SEO
Local SEO is the process of getting a business to rank higher in search engine results for local search queries. It's particularly useful for businesses that serve local customers from a physical location, such as restaurants and high street shops.
For local SEO to work for your business, you'll want to follow our 11 tips in this article, so let's take a look.
1. Name, Address, Phone Number (NAP)
Include your business name, physical address and phone number on all of the pages on your site. This can be in your content or just the header or footer, but it's is important because Google Maps shows up as part of local search results and sites without addresses do not show there. NAP is a vital part of local SEO.
You need to make sure that this information remains consistent across your website and all of the business directories your website is listed on. Other than making it much easier for potential customers to find your business online, Google also uses information found on your website with NAP information found on business directories to ensure that your business is trustworthy.
2. Get Local Links
Link building is one of the cornerstones of SEO. A good backlink profile helps tell Google's algorithm that your website is trustworthy and should be ranked higher, by creating trust signals. But Google search is all about the intent, so if you want to rank locally your best bet is to build backlinks from other local websites. Don't be afraid to reach out to relevant websites in your area and get some quality links back to your site.
When building relationships with local sites, make sure you're always putting local customers first. This means that you should only look to build links that will add real value to your customers.
3. Location Keywords
You need to include keywords in your content that are relevant to your location. These could be city/town names or specific areas near where you are located.
Keyword research can help discover relevant terms people use when searching online within certain distances from their home or office so they know what businesses offer services nearby them.
Use local keywords in your blog posts and on the pages of your site where they are appropriate. It's also important that you include local keywords in your meta titles and descriptions.


4. Optimise Your GMB Profile
It's important to have a Google My Business (GMB) page for your business if you want it to rank locally — plain and simple! If local customers can't find your business on Maps, then you're not going to experience the full benefit of local SEO.
Your GMB is important because it's an easy way for people to be able to contact you, see your customer reviews and check out what services or products you offer. It might just be the first thing that people see when they search for local businesses like yours.
It doesn't take too long to set up, so just get started with it right away.
5. Optimise Your Social Media
Being active on social media networks like Facebook, LinkedIn, Twitter and Instagram is a great way to attract new customers and build your brand awareness. But social mentions are also an important ranking factor, which leads to more website traffic.
Building new backlinks should also be accompanied by an increase in social proof and brand mentions, otherwise it won't appear "natural" to Google. You can use social media to create conversations around your brand, which will help with your local SEO.
6. Directory Listings
There are several online business directories where you should add your website if it isn't already listed there. These include large business directories such as Yelp, as well as local business listings. They play an important role when people perform local searches and can help you generate more business.
One thing to keep in mind is NAP constancy – make sure that your business name, address and phone number are the same across all of your online profiles. This means the same information, with the same spelling, in the same format. Inconsistencies can result in ranking issues and potential customers not being able to contact you.
8. Use Schema Markup
Another great tip to help you get ranked locally is to use schema markup. Using schema, also know as structured data, helps search engines understand the type of information they're indexing and what the page is about.
There are several types of local schema markup and each one serves a specific purpose when trying to rank locally. You can display your opening hours, customer rating, your services, answer frequently asked questions and more!
Schema markup can also tell Google which social media profiles are associated with your website or brand and make your whole digital marketing strategy more alligned. Here is an example of how we use FAQ schema with one of our service pages.
If you're using a CMS like WordPress, you can get a free plugin to help you add schema markup to each page on your website. Using a local business schema markup is an excellent way to give Google all the neccessary information about your business. Local business schema can be used for:
Restaurants
Medical/dental/veterinary practices
Clubs and bars
Branches of larger business such as banks and retail shops
Service providers
And many more local businesses
You can use Google's Rich Results Test to test if your website or page supports structured data. It should look something like this: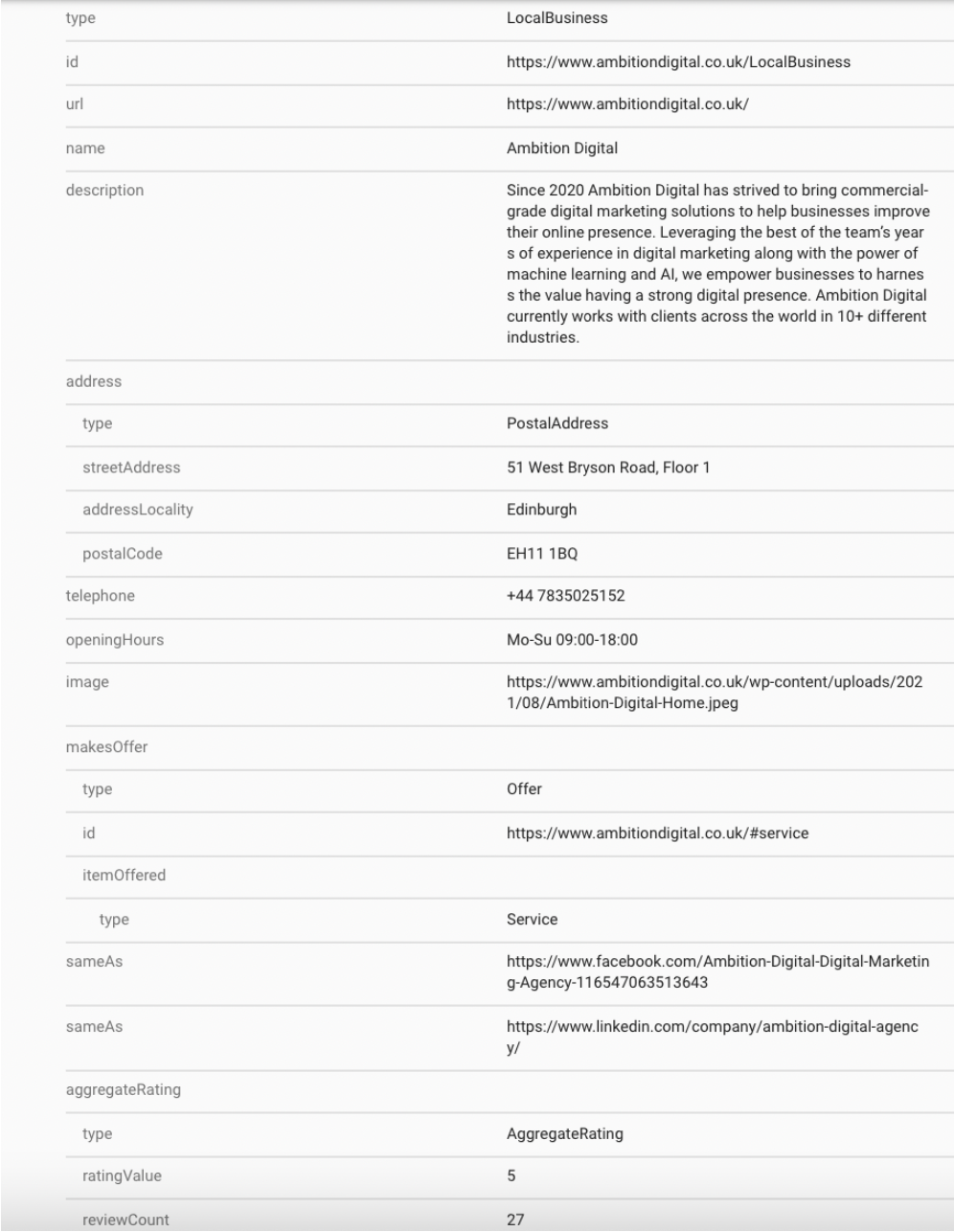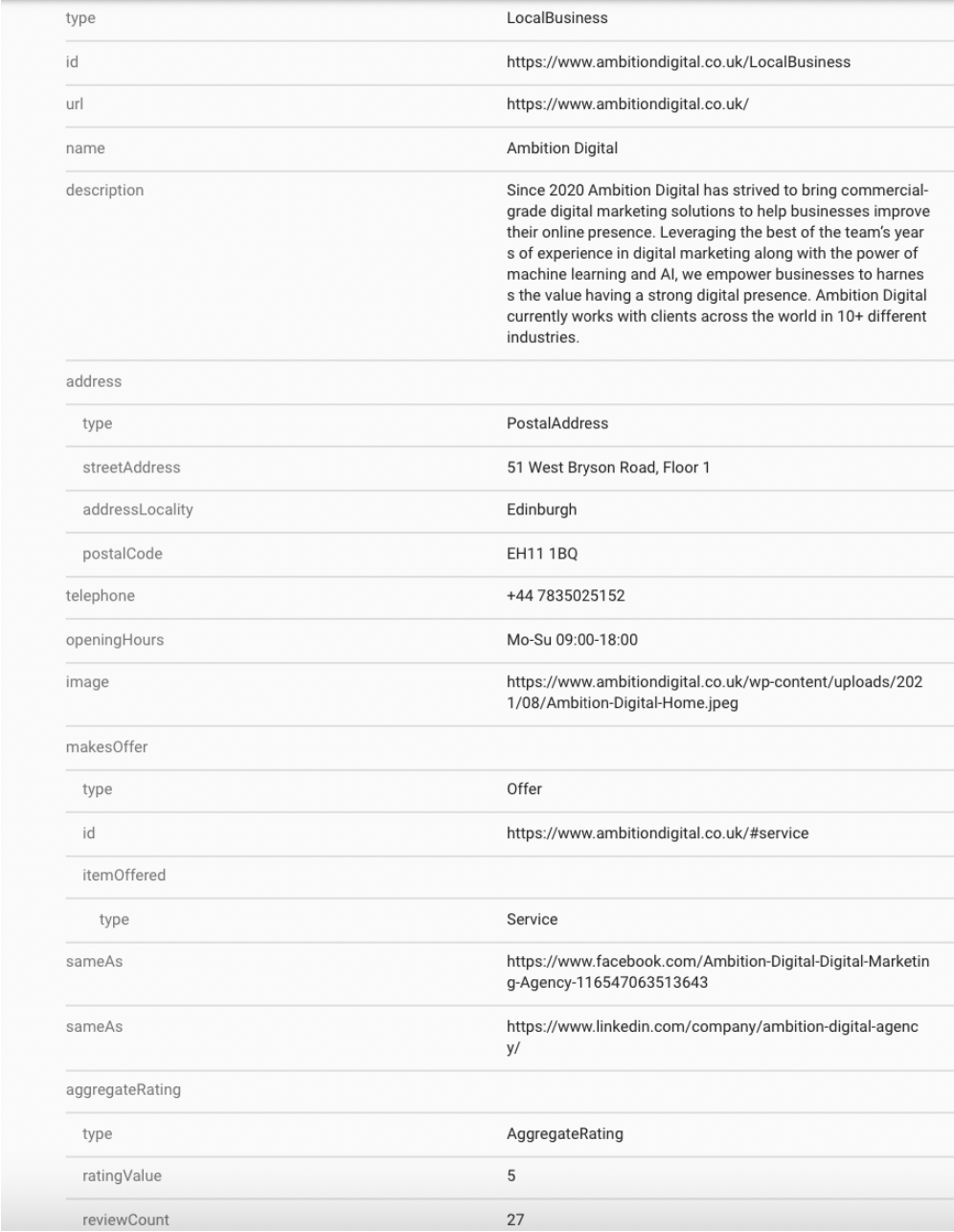 9. Publish Local Content
If you're looking to improve your local search rankings then we recommend focusing on creating great content around relevant keywords local to your area. This can include places, products, services, businesses, history or just about any other thing that showcases your knowledge of the local area and will be of interest to your visitors.
For example, take a look at this article by BBC Good Food which talks about the best places to eat in Edinburgh. It's one of the top search results for "best restaurants in Edinburgh" and ranks for several other local keywords. This piece of local content brings the website thousands of visitors every month.
 Could you incorporate a similar content marketing strategy into your business?
10. Create Localised Landing Pages
While creating local content is a great way to rank locally, it can leave you with lots of pages that aren't strictly directed at your own products or services. To avoid this issue we recommend having specific landing pages for each product or service at each location where you want to rank.
For example, if someone searched "Edinburgh SEO Agency" then they'd be taken directly to the relevant page on our site — despite us having a general SEO services page as well. It's an SEO technique called "verticalisation" and it's a great strategy for trying to target specific location with local SEO.
11. Use Internal Linking
Using local keywords in your internal links is a great addition to your local SEO strategy.
There are several ways in which internal linking helps to improve your local search rankings. The first thing it does it it improves your website navigation and helps your site visitors discover other relevant pages. Another benefit of internal linking is it assists search engine crawlers with better understanding of the information architecture and website hierarchy. Internal linking also helps to distributes page authority and "link juice" among pages, which is a form of link building.
You can do internal linking by simply adding localised anchor text to relevant pages on your site. For example, if you need help with your local SEO take a look at our SEO agency page or contact us today.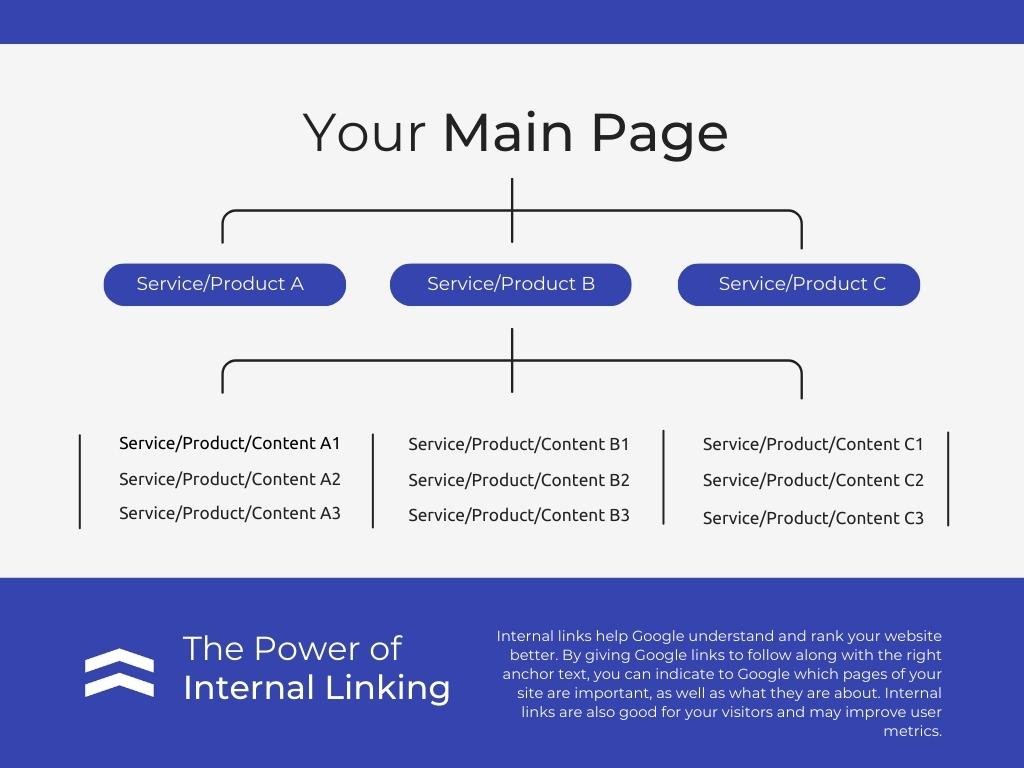 In Conclusion
Local SEO is a great way to attract local customers and build your brand awareness. It can be tricky to do it right, but if you follow these local SEO tips then we're sure your business will see the benefits rather quickly.
If you need help with your local SEO strategy then get in touch and we'll be happy to help. Ambition Digital is a 5-star rated SEO agency in Edinburgh that can help you get to the top of local rankings, drive more leads and increase your online conversions. Let's talk!